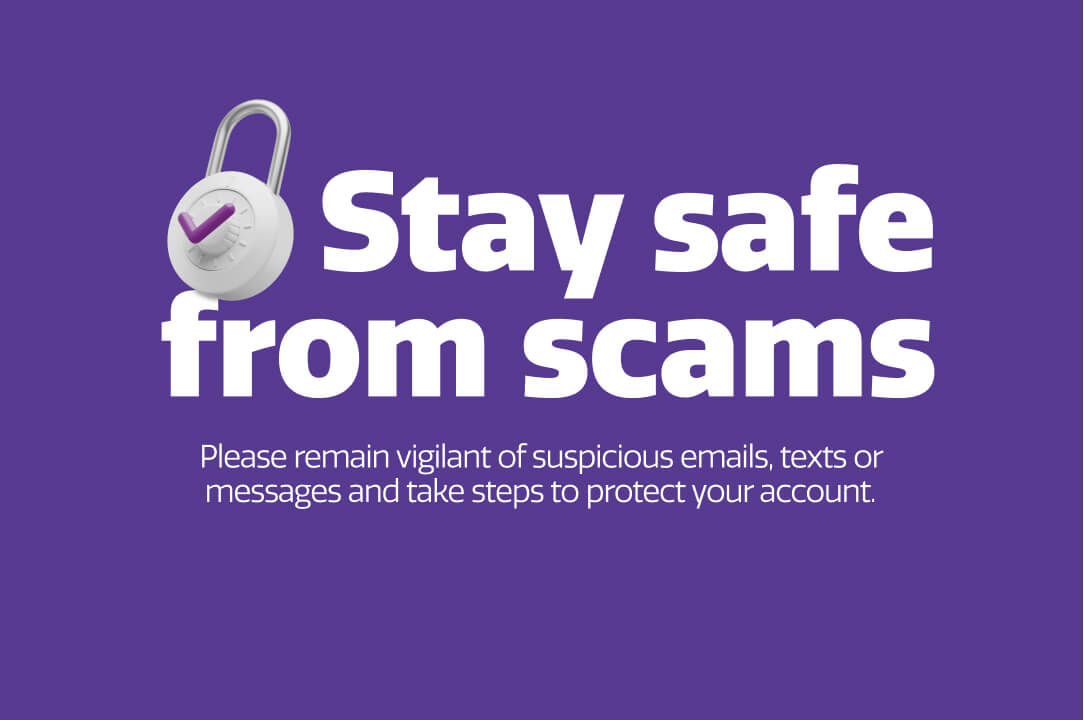 STAY SAFE FROM SCAMS
Scams can happen to anyone, and we want to keep you safe.
Online crime is increasing. We encourage our customers to remain vigilant of suspicious and unsolicited emails, phone calls or text messages and to be on the look out for any unexpected transactions.
Online safety tips
If you receive a suspicious or unsolicited email, alert or text message do not respond, delete it and do not click on any links.
Spelling mistakes, a sense of urgency or unknown domain names are potential signs that something is suspicious.
If in doubt, report it.
To check whether a link is suspicious, type the website address into your web browser directly or use your mouse to hover over the link without clicking so you can see if the website address is consistent with the email you received.
We will never request your credit card number, pin number, CVC, one time code or access to your device over the phone or in an email.
Our automated calling service will confirm your customer ID, our telephone number and our hours of operation during the call. We would not ask you to dial 1 to speak with an operator or anything similar. If you receive a suspicious call, hang-up immediately.
Stay on top of current scams by visiting Scam watch website at Submit a request – Netsafe
Password security
A simple password like 'Password123' is considered weak as it can be easily guessed by unauthorised third parties and increases the risk of your account being hacked. A strong password is critical for online security and to help protect your personal information.
Consider this when you are setting a new password:
Don't use the same password twice; make every online account unique.
Ensure your password length is at least 12 characters.
Tip: Use a 'passphrase' (a combination of three or four random words) which is easier to remember but hard to guess
Don't use personal information to create your passwords. Finding personal information online is easy, especially if you use social media.
Keep your passwords safe. If you struggle to remember your passwords, try using a password manager.
Change your passwords regularly.
If you believe your password has been compromised or leaked, immediately reset your password.
Remember: the disclosure of your personal, account and card information may result in a breach of our Product Terms and Conditions and we cannot be responsible if it results in a loss of money.
We're here to help
Our Security and Fraud Teams work around-the-clock to monitor and protect our customers.