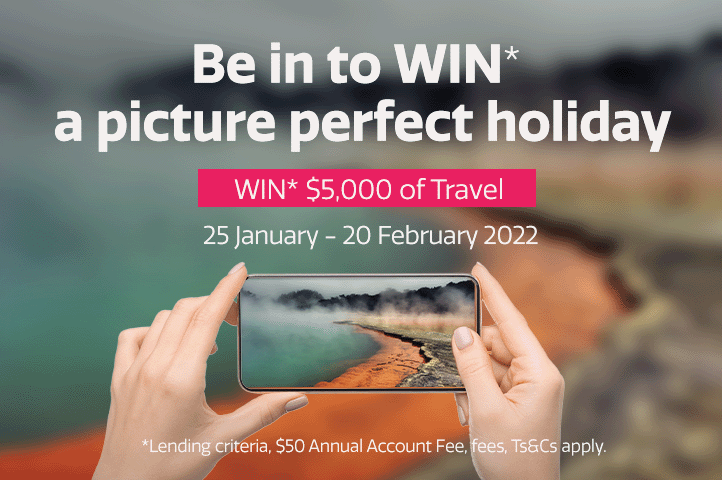 The summer break is almost over and it's back to work and school for another year. So here's something to help you make those 'holiday feels' last a bit longer.
Every purchase with your Farmers Mastercard® from Tuesday 25 January to Sunday 20 February 2022 gives you a chance to win* a $5,000 Flight Centre gift card!
You'll also earn Farmers Club Points** twice over when you have both your Farmers Mastercard® and your Farmers Club Card handy. Just make sure your Farmers Club Card is linked to your Farmers Mastercard account. Log in to My Account to link your card, and to view and update your details with us.
Whether it's picking up bargains in the summer sales, kitting out the kids for school or getting your own work wardrobe sorted, use your Farmers Mastercard and start planning your next picture perfect getaway, on us.
THINGS YOU SHOULD KNOW:
*Win $5000 Flight Centre Gift card prize draw
Prize Draw valid from 25 January to 20 February 2022 ("Prize Draw Period").
There is 1 prize in total to give away ("Prize Draw").
1 Prize draw winner will receive Flight Centre Gift card to the value of $5000.
An entry into the Prize Draw is automatic every time a purchase is made with Farmers Finance Card or Farmers Mastercard, in-store or online, during the Prize Draw Period at any participating stores.
At the end of the Prize Draw Period 1 winner will be drawn from all eligible entries received at 111 Carlton Gore Rd, Newmarket, Auckland on 1 March 2022.
The Prizes are not negotiable, non-transferable or redeemable for cash.
The Prize winners will be notified by phone or email by 14 March 2022.
If the Prize Draw winner cannot be contacted by [18 March 2022), the Promoter reserves the right to re-draw the Prize.
To be eligible for a Prize, an account must not be in arrears at the time the Prize Draw takes place.
Any purchases made on Farmers Mastercard or Farmers Finance Card during the Prize Draw Period that have been cancelled, refunded, returned or suspended will be considered an ineligible entry into the Prize Draw.
The entities responsible for this promotion are Columbus Financial Services Limited (Farmers Mastercard) and Retail Financial Services Limited (Farmers Finance Card) (each a "Promoter").
If a winner does not respond within 5 business days, the Promoter reserves the right to re-draw a prize.
The Promoter reserves the right to extend, amend, suspend or terminate this offer and these terms and conditions at any time without notice.
If for any reason a prize becomes unavailable, the Promoter may substitute an alternative equivalent prize without notice.
The Promoter is not liable for any failure (for whatever reason) to record an entry into the Prize Draw.
Any decisions made by the Promoter in relation to the Prize Draw are final and no correspondence will be entered into.
Entry into the Prize Draw is deemed acceptance of these terms and conditions.
Acceptance of the Prize is deemed consent for the Promoter to use the winner's details for promotional and media purposes.
Employees of the Promoter and/or FlexiGroup (New Zealand) Limited and Farmers Trading Company are not eligible to enter the Prize Draw.
Except for any liability that cannot be excluded by law, the Promoter shall not be liable for any loss, damage, personal injury whatsoever, including but not limited to indirect or consequential loss, which is suffered or sustained arising out of or in connection with the Prize or Prize Draw.
Where goods or services are supplied by third parties, the Promoter does not warrant the quality of such goods and/or services or their suitability. Nothing in these terms and conditions is intended to exclude, restrict or modify a consumer's rights under the Consumer Guarantees Act 1993.
Farmers Mastercard and Farmers Finance Card terms and conditions apply (as applicable).
Farmers Gift Card, Pascoes Gift Cards and Bonfire® Gift Mastercard® terms and conditions apply.
**Farmers Club Points redemption: Everywhere Mastercard is accepted in-store and online around the world. Collect 1 Farmers Club Point for every $10 spent on Farmers Mastercard. To be eligible to collect Farmers Club Points there must be a valid Farmers Club Card linked to your Farmers Mastercard account. Any spend made on a Farmers Mastercard without a valid, linked Farmers Club Card will not be eligible to collect Farmers Club Points and any Farmers Club Points will not be retrospectively put onto a Farmers Club Card account once a Farmers Club Card is linked. https://www.farmersmastercard.co.nz/benefits/