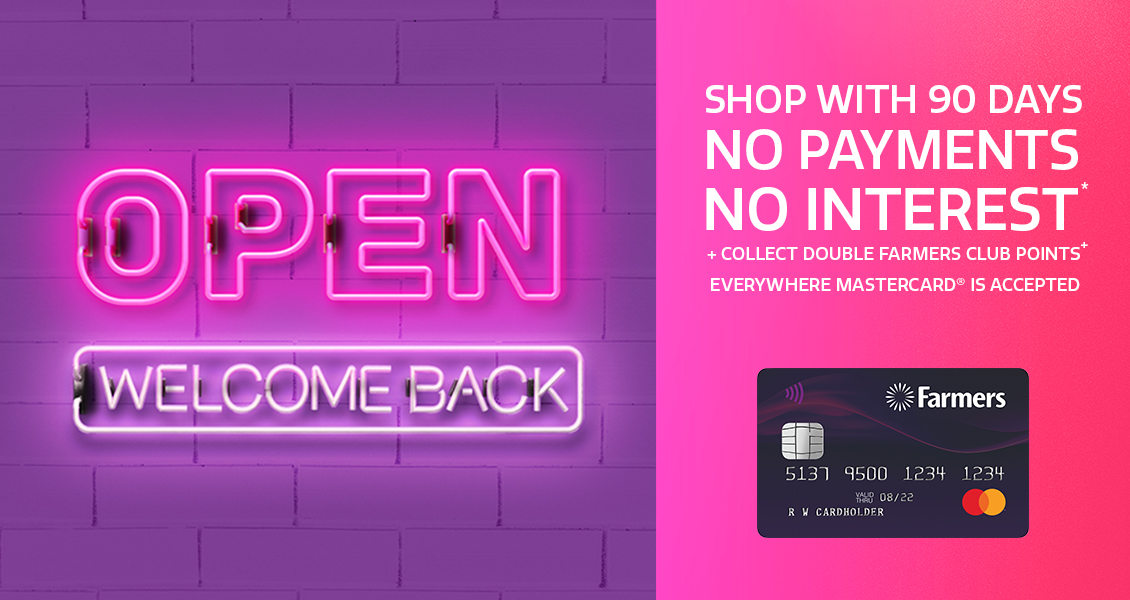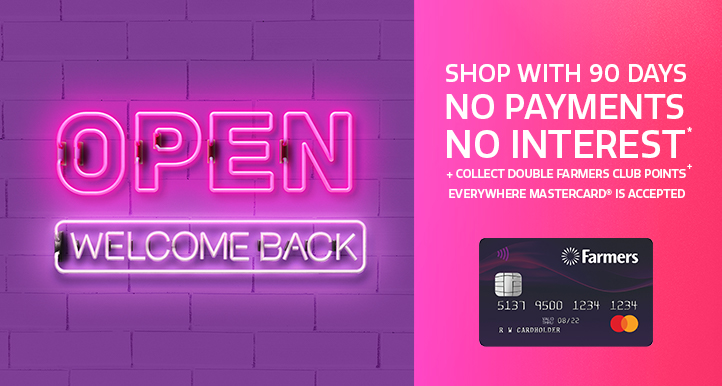 We did it! After weeks of sacrifice and hard work by our team of five million, New Zealand is officially at Level 2. Flattening the curve is something we can all be very proud of achieving together.
It's exciting to know that we can finally expand our bubbles, plan a return to work or school and travel round more freely. Of course, Level 2 means that Farmers and many of your other favourite local retailers and businesses are re-opening so you can #shoplocal and #eatlocal.
To help welcome everyone back to a way of living that feels a bit more normal, we're offering 90 days no payments and no interest* with no minimum spend and Double Farmers Club Points!+ This offer is available everywhere Mastercard is accepted from 14 - 20 May 2020. We hope it helps.
THINGS YOU SHOULD KNOW
*No payments and no interest for 90 days is only available on qualifying purchases made in-store or online at accepting retailers with a Farmers Finance Card ($50 minimum spend) or Farmers Mastercard (no minimum spend) from Thursday 14 May – 11:59 p.m. Wednesday 20 May 2020 New Zealand Standard Time (NZST) only. Interest at the Annual Interest Rate (currently 25.50% p.a. for Farmers Finance Card and 25.95% p.a. for Farmers Mastercard) will apply if any part of the Interest-Bearing Balance is not paid by the due date. Farmers Finance Card and Farmers Mastercard lending criteria, fees, terms and conditions apply (including an Annual Account Fee $50 for Farmers Mastercard only). Rates correct at date of publication, subject to change. Excludes cash advances, balance transfers, fees, interest charges or quasi-cash transactions. See farmersfinancecard.co.nz or farmersmastercard.co.nz for full details.
+Double Farmers Club Points ("Double Points") applies to all eligible purchases made from Thursday 14 May – 11:59 p.m. Wednesday 20 May 2020 New Zealand Standard Time (NZST) only ("Promotion Period"). Eligible purchases mean all purchases made with your Farmers Mastercard in-store or online everywhere Mastercard is accepted, excluding cash advances, balance transfers, interest charges and quasi-cash transactions. The transaction date of a purchase is determined by when and where the retailer accepts the purchase and is outside of Columbus Financial Services Limited's control. Purchases made overseas or online will be accepted in local time, which may affect eligibility. Double Points means two times the standard reward earn rate of Farmers Club Points for all eligible purchases on Farmers Mastercard e.g. collect 2 Farmers Club Points for every $10 spent on Purchases. To be eligible for Double Points, your Farmers Mastercard account must remain open during the Promotion Period and you must comply with Farmers Mastercard terms and conditions. Farmers Club Points will appear on your Farmers Club card, provided you have a valid Farmers Club card linked to your Farmers Mastercard Account. 250 Farmers Club Points will equate to a NZ$20 Farmers Club reward, available on your associated Farmers Club card, which may be redeemed on purchases at Farmers stores only. Reward redemption not available online. Farmers Club and Farmers Mastercard terms and conditions apply.