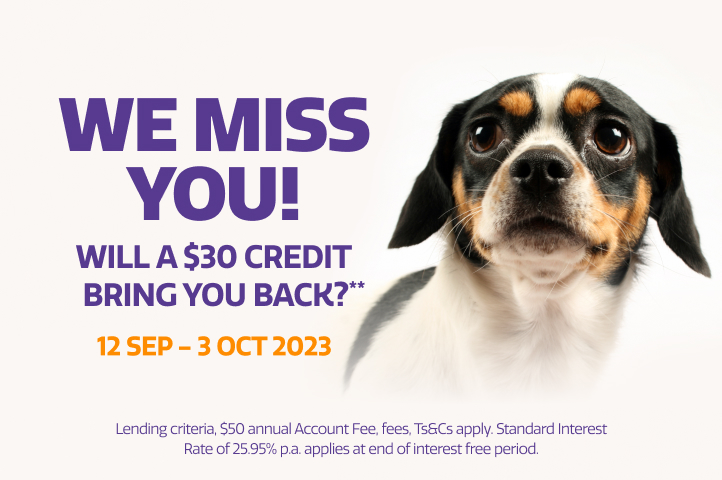 No one likes saying goodbye, so Farmers Mastercard® card wants to give you a $30 credit back** for sticking with us.
Use your Farmers Mastercard three times or more on any standard purchase, between Tuesday 12 September and Tuesday 3 October 2023 and you'll earn yourself a $30 welcome back credit**.
Don't forget, every standard purchase you make gives you up to 55 days to pay, always, and that's with no minimum spend (25.95% p.a. applies after interest free period).
You'll also earn Farmers Club Points+ on every purchase.
Imagine how good an extra $30 would be in your back pocket. It's a new book, some treats for the kids or maybe a new lipstick from the Farmers Beauty department. It's entirely up to you.
THINGS YOU SHOULD KNOW:
** $30 Welcome back offer: Valid for the closed group of selected cardholders receiving this email ("Eligible Cardholders"). Eligible Cardholders who make 3 or more purchases on their Farmers Mastercard (long term finance purchases excluded) at any retailer that accepts Farmers Mastercard, in-store or online, between 12 September and 11:59pm on 3 October 2023 will receive a credit back on their Farmers Mastercard account of an amount equal to the closing balance of their account as at 11.59 PM on 3 October 2023 up to a maximum amount of NZD$30 ("Credit Back"). Any applicable credit back will be applied to the Eligible Cardholder's Farmers Mastercard account by 20 October 2023. The Credit Back is not transferrable, negotiable or redeemable for cash.  The entities responsible for this promotion are Columbus Financial Services Limited (Farmers Mastercard). Farmers Mastercard terms and conditions apply. See  www.farmersmastercard.co.nz/things-to-know/terms-conditions  for further details.